Archive | July 2021
Small cottage cum workshop to be replaced with three townhouses:
To be lost is a sweet old building occupying the rear of a burgage plot in the middle of Ripon.
Most would agree that it isn't really worth a mention, it being a rugged simple brick and beam build. But look closer, and you can spot the nuance that won't be present it its successor; the roof pitch doesn't match the adjacent building; the brick is the same as that of the boundary wall; the entrance seems to be neither of the ground floor or first floor.
But from the Architects drafting I'm confident it will be tastefully replaced. Indeed, three new residential addresses down this side street could really breath life into this corner of the city. Still, it will be a long time before we have a new old building here to catch our curious eyes.
Demolition notice for an art deco cinema in Wakefield City Centre:
Derelict for 20 years now, it feels as though this cinema has weathered numerous attempts on it's life over the years. In all honestly I didn't actually realise it was still standing. Beloved locally to the extent that it has its own Facebook group, demolition is now looking inevitable. All the sake of another surface car park.
It is important to remember that cinemas can only ever be of relatively recent built history, and the small town centre theatres are the first wave of this vital part of modern history. This cinema is of no striking architectural merit, aside from the art deco ordering and rotunda-esque massing. However in terms of social meaning, the arrival of a cinema in Wakefield marks the start of modernity in this provincial city.
And imagine having the civic foresight to actually integrate a cinema building into the existing townscape, rather than building one on the settlement edge, preferably next to a motorway junction, drive through restaurant, and a concrete prairie of car parking.
Easy to convert to a multitude of uses, and no reason to expend a million tons of carbon redeveloping the site. Why not retain it and let the ABC cinema become rightfully historic?
Edwardian villa threatened with demolition in Ilkley: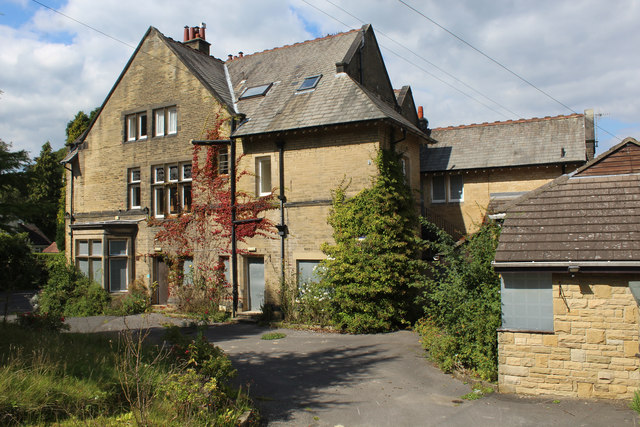 A beautiful suburban Edwardian house that has been used until recently as a care home is threatened with demolition following acquisition by Barchester Healthcare Ltd. Although not listed, the building is within a conservation area, an as such this should be grounds for refusal on the harm that would result from its loss. Indeed even the heritage statement acknowledged that 'ipso facto' the building is a designated heritage asset.
Pre-application advice from the case officer at Bradford Council stated that the principle of the development is acceptable, effectively giving the go-ahead to the developer before the application has entered the public domain and the democratic due process.
Nonetheless it is reassuring to see the barrage of public comments objecting to this proposal, including objections from Ilkley Town Council who rightly point out that allowing demolition on the grounds that a building is in disrepair effectively rewards owners for neglecting heritage.
After so much opposition, it would be a shock to see this one get permission.